2014
A number of events were organized at the Ciguë in 2014. Some by the party committee, some by residents, and others by entire buildings! Here is a small overview of what happened in 2014 !
Plein Air à Voltaire
The Plein Air à Voltaire is a festival of short films organized by the residents of the Clos Voltaire. Over the years, it has developed from a simple film projection to an entire day of festivities, with theatrical performances, concerts, food, and of course films!
Rallye Taméson
The Rallye Taméson is an occasional event at the Ciguë. The idea is to do a tour of the houses of hte Ciguë, with at each stop a small competition. The second edition occured in 2014, with a foosball competition at Montbrillant, a European football competition at one of our satellite appartments at Route de Vernier, an ultimate frisbee competition with musique and an apéro at Clos Voltaire, and an end of rally party with trophies, a barbeque, and music at the Coulouvrenière ! More photos to come soon…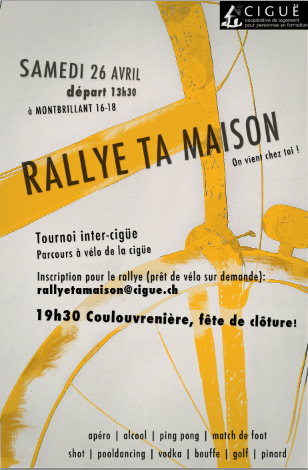 Coulou est à Vous
The Coulou est à Vous is an event of the Ville et à Vous for the neighbourhood of the Coulouvrenière. Garage sales, food, activites, and concerts are organised over two days by residents of the neighbourhood, including those of our building at 26 rue de la Coulouvrenière. You can find the facebook link to La Coulou est à Vous here.
Sur la Piste à Daniel-Ihly
The danse floor at Daniel-Ihly was part of a large initiative of the Canton of Geneva called Genève, Ville et Champs.Each of their installations talked about the relationship between urban and rural areas. The danse floor at Daniel-Ihly focused on the changes in neighbourhoods undergoin large renovations.
Organisers of the initiative asked the Ciguë to animate the danse floor, and thanks to the participation of the residents of Chemin Daniel-Ihly and the Chemin du Bac nearby, we were able to organise a number of events including a series of outdoor film projections (CinéAventure), jam sessions, an outdoor capoeira class, and a day of graffiti open to all!